Glacfar le horduithe ar siopa.ie go dtí an 18 Nollaig 2017. Déanfar aon ordú tar éis an dáta sin a phróiseáil i ndiaidh na Nollag. Gabhaimid leithscéal as aon mhíchaoithiúlacht. Orders will be accepted on siopa.ie until 18 December 2017. Any order placed after that date will be processed after Christmas. We apologise for any inconvenience.
Close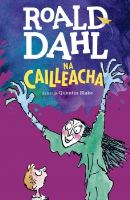 Na Cailleacha
ISBN: 978-1-909907-88-1
Year published: 2017
Cover: Paperback
Tá an dearg-ghráin ag cailleacha ar pháistí. Bíonn boladh caca madra ag teachta uathu, dar leo. Anois tá an Ard-Chailleach Mhór ag iarraidh fáil réidh le gach uile pháiste sa tír — an féidir stop a chur leis na cailleacha? Insíonn úrscéal Roald Dahl scéal an bhuachalla seo agus a mhamó ón Iorua agus iad ag tabhairt aghaidh ar na cailleacha gránna!
Tá Na Cailleacha ar cheann de na leabhair is mó aistriúcháin ar domhan.