Glacfar le horduithe ar siopa.ie go dtí an 18 Nollaig 2017. Déanfar aon ordú tar éis an dáta sin a phróiseáil i ndiaidh na Nollag. Gabhaimid leithscéal as aon mhíchaoithiúlacht. Orders will be accepted on siopa.ie until 18 December 2017. Any order placed after that date will be processed after Christmas. We apologise for any inconvenience.
Close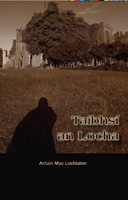 Taibhsí an Locha
ISBN: 978-1-905560-41-7
Year published: 2009
Cover: Paperback
After barely surving an horrific car accident, millionaire business John Grayling decides to take things easy and retire to his recently acquired country house. However, he soon begins to hear strange noises and to see stranger things, at night and during the day. Who is the mysterious 'Grey Lady' in the portrait on the stairs? And who is the 'White Monk'? And what are they trying to tell him? With the help of his sister Jackie and her archaeologist friend Brenda, they reveal the secrets of Teach an Locha and lay its ghosts to rest. Part detective story, part ghost story, this tale simply told will fire the imagination and perhaps cause a shiver or two to run up the spine. Aimed at adult learners teenage readers will also like this book. Written in a clear, simple style it also features a glossary at the back of the book.