Glacfar le horduithe ar siopa.ie go dtí an 18 Nollaig 2017. Déanfar aon ordú tar éis an dáta sin a phróiseáil i ndiaidh na Nollag. Gabhaimid leithscéal as aon mhíchaoithiúlacht. Orders will be accepted on siopa.ie until 18 December 2017. Any order placed after that date will be processed after Christmas. We apologise for any inconvenience.
Close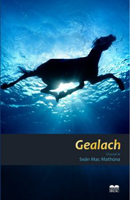 Gealach
ISBN: 9780898332636
Year published: 2012
Cover: Paperback
On the La Toure family farm in Nova Scotia lives Gealach, one of the best race horses in Canada. While being transported across the harbour in a boat, Gealach falls in the sea. In the heavy fog the horse disappears from sight. Life on the farm is turned upside down.
The twins, Jack and Liz, refuse to believe that Gealach has drowned and go in search of the horse. But time is running out: they have mounting debt on the farm and, without Gealach, they will lose their home and everything they own. Not only that, but Gealach is with foal, and if she's still alive they must find her quickly!
This novel was awarded an Oireachtas Literary Prize in 2010.