Glacfar le horduithe ar siopa.ie go dtí an 18 Nollaig 2017. Déanfar aon ordú tar éis an dáta sin a phróiseáil i ndiaidh na Nollag. Gabhaimid leithscéal as aon mhíchaoithiúlacht. Orders will be accepted on siopa.ie until 18 December 2017. Any order placed after that date will be processed after Christmas. We apologise for any inconvenience.
Close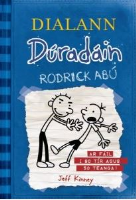 Dialann Dúradáin - Rodrick Abú
ISBN: 9781910945247
Year published: 2016
Cover: Paperback
Whatever you do, don't ask Greg Heffley how he spent his summer vacation, because he definitely doesn't want to talk about it. As Greg enters the new school year, he's eager to put the past three months behind him . . . and one event in particular.
Unfortunately for Greg, his older brother, Rodrick, knows all about the incident Greg wants to keep under wraps. But secrets have a way of getting out, especially when a diary is involved. Diary of a Wimpy Kid: Rodrick Rules chronicles Greg's attempts to navigate the hazards of middle school, impress the girls, steer clear of the school talent show, and most important, keep his secret safe.